Chapter 6. Roe and the Dark Elves
"I used to have a friend who was an elf just like you. He's name was Thorundur." Roe smiled sadly.
"That sounds like a light elf name." Ondina's eyes met Orm's.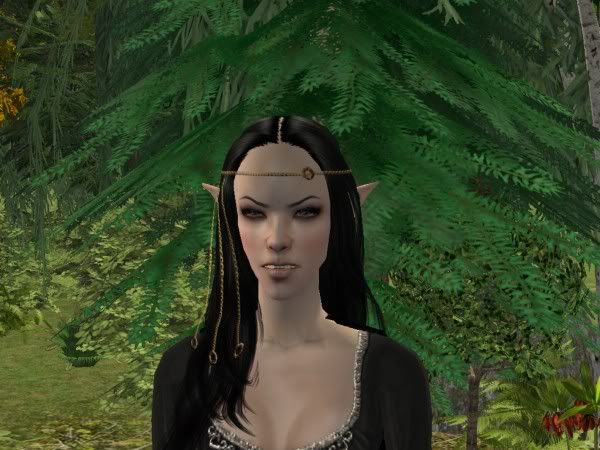 "I'm sure that he was a nice person if you chose him to be your friend." Ondina didn't sound as if she really meant this. "But you should know that light elves cannot be trusted. There are things in the past that we will never forgive them. They started a cruel war against the dark elves and we will never forget our terrible losses. It's probably better for you to keep away from light elves." Ondina's face hardened when she talked about light elves.
"I don't think you should spend so much time with the elves," Otter's ears twitched slightly and Roe had to look down to hide her smile. She didn't want her mother to believe that she was being disrespectful. It was always so easy to tell when Otter was uncertain. Her ears revealed her. "We Forest people proud ourselves to be polite and kind but we don't socialise with other species and only rarely with those of our own kind that are not family. I know that you had much fun with the light elf when you were a child but you are growing up and should follow the ways of our people."
"Why don't Forest people socialise with others?" Roe couldn't understand this. It was so fun and interesting to be with the elves.
Otter's ears twitched again. She really didn't know exactly why she thought that Roe shouldn't spend time with the elves. It just felt strange and wrong. She worried because it became more and more clear that maybe Roe was different from other Forest people, and according to Otter being different meant trouble. "Because it's not how we are. It's against our nature." Otter realised that the answer was insufficient for Roe who just looked more questioning.
Wolf sat down by the fire next to Roe. "It's time for the Forest people meeting next summer. You're now old enough to participate in the competitions, and I think that you will enjoy that."
Roe was thrilled. She still remembered her first and only meeting as a very special event in her life. She would indeed enjoy competing with other hunters of her own kind.
Roe had seen a colony of bees in a tree some days before and had decided that she would surprise her parents with honey today. She was thinking about how happy Otter and Wolf would be when she came home with the honey when her sharp nose picked up a very familiar scent that she had not felt for many years now. The scent brought back so many memories from the past, but it was not possible, she must be mistaken.
She was not mistaken. Suddenly he stood there in the forest looking straight at her, just like the first time that she'd met him.
"Hi Roe, I think that you have grown since last time I saw you." The familiar smile made his eyes glitter.
Chapter 7. Happy Reunion
"Thorundur!" Roe threw herself around Thorundur's neck. "I've missed you so much!"
"I missed you too Roe. My parents wouldn't let me leave home until now. I was so afraid that you might have moved so that I wouldn't be able to find you again."
"I met two dark elves who became my friends." Roe worried about how Thorundur would react to this information considering what the dark elves had told her about the relations between light and dark elves. But Roe didn't want to have any secrets for Thorundur.
"Dark elves!" Thorundur looked upset. "Dark elves are evil. How could you be friend with such people?" he asked accusingly.
"Wait, Roe. I didn't mean to be angry at you. It's not your fault. You couldn't know how cruel dark elves can be. Please don't be angry at me. Do you still see the dark elves?"
"I better stay then," he said with a smile.
Thorundur was upset to learn that Ondina and Orm had settled down in the mountains not very far away from his brother's home. But Thorundur and Roe didn't talk more about the dark elves.
"You're the only elf here who's about the same age as Prince Alexander," King Eraldor said. "I think that it's more than reasonable and polite that you spend some time with him. He's going to be treated as an honoured guest in our palace."
"But a human!" Aliendre was not happy. "Am I supposed to be a nanny to a human?" She could think of thousands of things that she'd rather do than spend time with a human.
"Humans may be mortal and different from us but they are our allies. We have not forgotten the help that they gave us when the evil dark elves started the war hundreds of years ago. You were not born then but most of the light elves are old enough to remember how the humans helped us to win the war when it looked hopeless. Our numbers were seriously reduced and never has there been a sorrow worse than what we experienced because of the war. The human king who supported us was an ancestor to Prince Alexander and therefore the prince must be treated with respect."
Aliendre sighed and bowed her head.
Although Aliendre had no other choice than to do as she was told, she didn't look forward to the visit by the human.
________________________________________________________________________________
Chapter 8. Travellers
"I would very much prefer to be at home with my family instead of looking after a spoiled brat prince in the middle of nowhere" Robert said.
Robert looked puzzled. "Why?" he asked.
Alexander grabbed the axe and walked away. It was harder than he had thought but finally he had a nice pile of logs. Satisfied with the result he decided that he would show everyone that he was a lot more than a spoiled prince.
"We're not very far away from the elven palace now," Roland said. Can you see the mountains over there?"
Alexander looked in the direction Roland pointed and nodded.
"Never go to close to the mountains. It's said that dark elves dwell there," Roland said. "They can put a spell on you so that you're lost in the wilderness forever."
Alexander shuddered. He had read about dark elves and their black magic and had no intention to have any closer contact with them. It was good the light elves' palace was in a completely different direction.
_____________________________________________________________________________
Chapter 9. The Light Elves' Palace
The guards only stayed to get a couple of days rest from the travel before it was time for them to return home. When Roland bowed and said "Goodbye Alexander it was a pleasure to escort you," he sounded sincere and when he looked at Alexander it was with a respect that hadn't been there before.
The guards left and Alexander was the only human left. But the elves were friendly and kept him busy. There were always new and interesting things to learn. Alexander worked hard, determined to make a good impression and to improve himself.
Now Alexander realised that it was not a statue at all. It was actually the queen herself who had been completely still in the same posture for a long time. He could swear that she hadn't even blinked.
To Alexander's surprise and delight Aliendre approached him one day. "Would you like to come with me on an excursion?" she asked. There was still not a trace of a smile in her face.
"Of course," she said. The king and queen use their powers too keep this place as we like it."
Alexander was dumbfounded. He hadn't really expected magic to be involved although he had known that some of the elves from the oldest families had strong powers. It was one thing to read about magic powers and another thing to see evidence of it.
"Would you like to practice archery with elven bows?" Aliendre said.
The first arrow hit the target in the bullseye and the next was not very far from it. Alexander found that his results were better than ever. He had never used such a good bow. "Has this been prepared with magic?" he asked Aliendre. It seamed reasonable that the bow could be enchanted if the landscape was.
"No," she said as if he was stupid to ask such a question. "We have very skilful craftsmen."
Alexander shot some more arrows and was satisfied with the result. Aliendre picked up a bow and started to practice on another target and Alexander noted that she was skilled. Obviously she had done this many times before.
"Would you like to compete?" Alexander asked.
Okay, she's a bad loser Alexander thought amused and accepted the challenge. He felt confident about his skill with the bow. All the hours of practice had given result and with the elven bow he was better than ever. But when he saw how far away Aliendre had meant he protested. "I can hardly see the targets there. How am I am supposed to be able to aim?"
Aliendre smiled content. "Do you give up?"
Although Alexander did well Aliendre won this time. I was clear that elves had better vision than humans. Aliendre was not only a bad loser she was also a bad winner. Although Alexander could tell that she tried to hide her content she did not succeed very well.
To Alexander's surprise and delight Aliendre's lips formed bright smile that made her look radiant. For once the imperious princess was amused. "You shouldn't have picked those flowers," she said.
"Why, is there a law against picking them?" Alexander looked horrified and threw the flowers on the ground.
"No, there's no need for a law. No one would be stupid enough to pick them," Aliendre said with a laugh. "Almost no one" she corrected herself with a look at Alexander. "You will understand very soon what I'm talking about."
Before Aliendre had finished the sentence Alexander felt how his hands started to twinge and he could see vesicles popping up.
"The flowers have a poisonous sap," Aliendre said. The tone of compassion in her voice surprised Alexander. "It's not dangerous but will hurt for a while. You're lucky though. I have something in my saddle bag that will help."
She got an ointment and salved Alexander's hands that started to feel better immediately. Aliendre's hands were warm and soft.
"It was worth it to see you smile" Alexander said when Aliendre met his eyes for a moment. That seemed to get her out of balance for a short while.
When they rode home Aliendre smiled a little when he joked with her. She told him about the places they passed and asked a couple of questions about his family. In the short ride home they exchanged more words than they had since Alexander came to the light elves.
Alexander smiled. He had known exactly what plants that he had picked. They grew at home also and he was well aware that they would cause a rash. It had been worth it to break the ice between him and Aliendre. An extra bonus was that Aliendre had had a healing salve so he didn't even have to suffer much. He thought about the softness of Aliendre's hands. It had been a very good day on the whole.
__________________________________________________________________________________________________________
Chapter 10. The Tribunal
When he got out of his room he saw Aliendre and she was looking at him. She looked puzzled as if she tried to figure out something.
"Good morning," Alexander said, and for the first time the princess returned his greeting with a friendly smile.
Alexander found that Aliendre smiled often now. They spent more and more time together. Aliendre wanted to know everything about the human word, something that she recently had seemed to consider being below her dignity. Alexander was cheerful by nature and his jokes made her laugh.
Between two light elves in armour was a teenage boy who Alexander thought must be a dark elf. The boy was obviously a prisoner and did not seem to be any older than Alexander.
The boy's jaws were tense and his eyes filled with pride. He kept silent and did not answer any of the questions that he was asked.
Eraldor stood up to announce the sentence. "Your memory and your sense will be taken away from you before you will be released in the forest far away from here."
Eraldor sat down looking tired and worn as if all his energy had been drawn out of him with the spell. He went slowly into to the palace, supported by his wife, and stayed out of sight for three days.
_______________________________________________________________________________________________________________________________________________________________
Chapter 11. Boar Hunt
"I've never seen you use any magic," Roe said. "Don't all elves have magic powers?"
"It's mostly the oldest elves and sometimes their children. I don't have much power but there's something that I can do. Look!"
Thorundur closed his eyes and concentrated. He reached out his fingers and started to say some strange words that he repeated many times under deep concentration. After a long while Roe could see a small flame of fire coming from his fingertips. With a last effort he lighted a fire.
"That's fantastic Thorundur. You're so skilled."
It was getting colder each day. Roe took a deep breath letting her lungs fill with the fresh autumn air. She took a new breath but this time only with her nose. "I can smell the boar here. It must be in this direction," she said. She could feel the adrenaline running through her veins, sharpening her senses and making her feel really good.
"Are you ready?" Roe nodded in the direction of the wild boar that was drinking from the lake.
Thorundur raised his bow and aimed. Just as he was about to fire the arrow the boar looked up and ran away. The arrow went through the air and hit the ground where the boar had been half a second before. "I can't believe it! I had him! Something scared him."
There was a movement in the bushes by the lake and a dirty skinny figure appeared. He looked ragged and his eyes bewildered. When he saw Roe and Thorundur there was a look of total terror in his face before he turned away and ran through the forest in an amazing speed as if something horrible was hunting him. Soon he was out of sight.
"He was a Dark elf so of course he wouldn't have any sense. He made us loose the boar."
Despite the harsh words from her friend Roe could see that the strange behaviour of the boy had disturbed Thorundur as well.
_______________________________________________________________________________________________________________________________________________________________